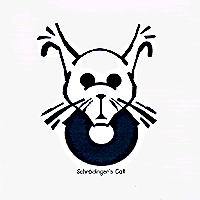 Schrödinger's Cat - When Doves Cry
Buy Big Beat A Cappella
I see Michael is back, which is excellent; his shoes are no simple feat to fill. I wanted to leave you with this one final track before my tenure here is over. Pop a cappella music includes some of the worst music in the universe. It's just frelling horrible 90% of the time - cheesy, monotonous, and stupidly slick. Austin-based Schrödinger's Cat, meanwhile, managed to release a few tracks that were blazingly badass, including this Prince cover that remains in my deejay set to this day. Their "big beat a cappella" style utilizes stomping, clapping & body slapping for percussion, and seven voices were involved in making this recording. The human voice is where it all started when you're thinking about music, and precious few tracks these days really capture how dynamic the voice can be. Dig it, and enjoy.
If you liked what you heard while I was hosting, please drop by
Comfort Music
for "mp3 love, 5 days a week". We now return you to your regularly scheduled Royal Music, already in progress!